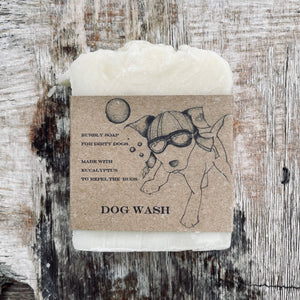 Scout-Dog chose this one.... A bubbly soap for dirty dogs, made with eucalyptus to repel the bugs.
"Our Dog Wash is made specially with our furry friends in mind. Crafted with natural ingredients to help plush up your pooch after a busy day at the beach or about town. The eucalyptus not only smells delicious but also helps to repel bugs and pests.
Simply rub through wet fur to make a lather and rinse out. As with all soaps, please try not to get it into your pet's eyes, if you do then rinse out with plenty of water. Do not leave your pet unattended with the soap as it smells great and we wouldn't want them to eat it!"
Each bar is made in small batches and is hand cut and weighs approx 120g (approx. 8.5cm x 7cm x 2cm)
- Eco-Friendly - Vegan - Cruelty Free -
- Tested on humans -
… a wee note on the ingredients used in this bar:
The majority of soaps on the market contain synthetic detergents which are usually much harsher on sensitive skin than naturally made soaps. They can contain petroleum distillates and many other chemicals.
Castaway soaps (including the dog wash) have a high proportion of natural oils such as coconut and olive oils which produce a gentle and moisturising product which is naturally less irritating to the skin.
To produce the extra bubbles in the dog wash I use shea butter, which again is naturally moisturising.
The concentration of eucalyptus oil is considerably less than 1% as greater concentrations of essential oils have been shown to irritate dog's skin and this concentration has been approved by vets.