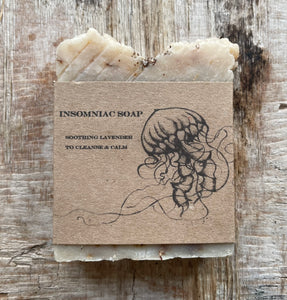 Our Insomniac Soaps are made with Scottish lavender helps to soothe mind and body. This soap smells wonderful - the smell of our garden in summer time!
Used since ancient times for its lovely aroma, lavender is thought to reduce stress and anxiety, helping to calm busy minds whilst cleansing the body. Handmade with organic lavender grown by the North Sea coast, Scotland.
Each bar is made in small batches and is hand cut and weighs approx 120g (approx. 8.5cm x 7cm x 2cm)
- Eco-Friendly & Cruelty Free -
Ingredients: sodium cocoate, sodium olivate, sodium palmate (certified sustainable), glycerin, Aqua, lavendula angustifolia (lavender) oil, sodium avocadoate, Mel (honey), lavendula angustifolia (lavender) flower.